by
Redazione
, published on 13/09/2023

Categories: Art and artists
/ Topics: Praemium Imperiale



The names of the winners of the 34th Praemium Imperiale, the Oscar of art, have been revealed. For sculpture Olafur Eliasson wins, for painting Vija Celmins, for architecture Diébédo Francis Kéré, for music Wynton Marsalis, and for cinema-theater Robert Wilson.
The five winners of the thirty-fourth edition of the Praemium Imperiale, the award created in 1988 by the Japan Art Association, Japan's oldest cultural foundation, have been announced.As the world's most prestigious arts award, it can be recognized as a kind of art Oscar.
The 2023 edition saw American- Latvian artist Vija Celmins (Riga, 1938) triumph in the painting category; Danish-Icelandic Olafur Eliasson (Copenhagen, 1967) in the sculpture category; and American jazz trumpeter and composer Wynton Marsalis (New Orleans, 1961) in the music category; Burkinabe-German architect Diébédo Francis Kéré (Gando, 1958) for the architecture category; and American director and playwright Robert Wilson (Waco, 1941) for the theater and film category. The Young Artist Fellowship this year is awarded to two American institutions, Rural Studio and Harlem School of Art.
A prize of 15 million yen (about 95 thousand euros) goes to each of the winners, while the young artists' grant allows in an endowment of 2.5 million yen (about 16 thousand euros) to be invested in the winners' activities. The award ceremony will be held in Tokyo on October 18, 2023: Prince Hitachi, honorary patron of the Japan Art Association, will present medal and prize to the winners. Winners are chosen by a jury of several experts who report to the national committees of the award, chaired by Lamberto Dini (Italy), Christopher Pattern (UK), Klaus-Dieter Lehmann (Germani), Jean-Pierre Raffarin (France), and Hillary Clinton (USA).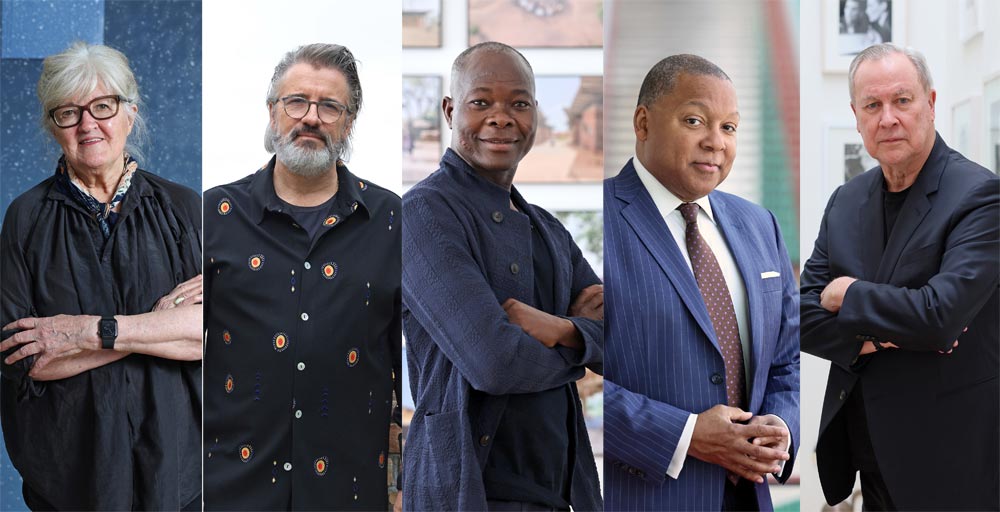 The Winners
When Vija Celmins talks about her work, she says, "I think I paint things I can't say." Born in Riga, Latvia, shortly before the outbreak of World War II, she fled with her family shortly before her country was invaded by the Soviet army. They later emigrated to the United States in 1948. Vija Celminsì's meticulous paintings and drawings of the natural world captivate the viewer and draw him or her into an unknowable expanse that holds undeniable beauty. Fascinated by a painting's ability to have depth of imagery while remaining flat; the duality of experience that could be created through the work stimulated Celmins' artistic vision. In the works, often inspired by previously taken or found photographs, Celmins works on building depth and filling the canvas. "I find that my works tend to go slowly because I build up the image until it is as full and dense as I can render it. You could say that painting and image are in a constantly changing relationship, and this has inspired me."
Olafur Eliasson is an artist who has broken conventions with his works. Color, light, water, ice: these are just some of the natural elements that the Danish-Icelandic artist skillfully employs in his works. Much of the artist's inspiration comes from his experience of nature as a boy in Denmark and Iceland. The artist's education has further motivated him to challenge global environmental issues through his art. His works are designed to alter perception and raise awareness by creating a sense of wonder.
Architect Diébédo Francis Kéré is from Gando, Burkina Faso. He left his home to attend school for the first time when he was 7 years old. Studying in dark, unventilated buildings was what motivated him to build better spaces. After also studying in Germany, Kéré transformed the industry in Burkina Faso, throughout Africa and beyond. His distinctive technique is to combine local materials and skills with innovative design and smart engineering solutions. Meanwhile, he continues to focus on working with local communities.
In the field of music, Wynton Marsalis is a world-renowned trumpeter. He is also a composer and a leading advocate of American culture. Raised in a musical family in New Orleans, Louisiana, he began playing jazz and classical trumpet music at an early age. In 1980, soon after moving to New York to attend the Juilliard School, he went on tour with the legendary Art Blakey and the Jazz Messengers. Over the next four decades, he rekindled widespread international interest in jazz through performances, educational initiatives, books, curricula and public support.
Finally, Robert Wilson has created some of the most important and memorable works in contemporary theater over the decades. He is known for creating extraordinary sets, captivating lighting, and radical choreography. Through these he has created an artificiality of the stage in which time and space are redrawn and the audience's experience is also reimagined. After moving to New York in the 1960s, Wilson founded the experimental performance collective "Byrd Hoffman School of Byrds."
As for the Young Artist Grant winners, however, the first recipient, Rural Studio, founded in 1993, is an architectural design-build program. It is run by the School of Architecture, Planning and Landscape Architecture at Auburn University in Alabama. Rural Studio's guiding ambition is to help students understand social responsibility in architecture through direct involvement in construction and design work. In 2004, the Studio initiated Project 20K: through it, young participants explore housing prototypes that aim to be affordable, energy efficient, and resilient while maintaining high-quality design.
The second recipient is the Harlem School of the Arts (HSA). Founded in 1964 in Harlem, New York, by African American soprano Dorothy Maynor, the school provides a safe space for young people to explore their creativity. HSA teaches about 1,600 students ages 2 to 18 each year and offers interdisciplinary training in music, dance, theater and visual arts. Of these, 80 percent are African American and Latino, and 75 percent receive financial assistance. Teaching is led by professional artists, ensuring that students learn from those with direct experience in the field.
Olafur Eliasson wins Praemium Imperiale. All the winners of the Oscar of art