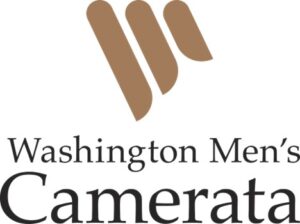 The Washington Men's Camerata invites qualified applicants to apply for the salaried position of Artistic Director commencing with the 2024-2025 concert season. For best consideration, applications should be submitted no later than Monday, October 16, 2023.
About the Washington Men's Camerata – Washington, DC (https://camerata.com)
The Washington Men's Camerata, founded in 1984 and based in Washington, DC, performs and promotes the rich tradition of men's choral singing. There are approximately 40 volunteer members and a paid professional core. Known for its Demetrius Project, a national repository library of men's choral music, the Camerata prides itself on its commissioning program of works for men's chorus, as well as its history of making distinctive recordings. Set in the vibrant choral community of Washington, DC, the Camerata has performed at the John F. Kennedy Center with the National Symphony Orchestra; as part of performance series at the Library of Congress and the Smithsonian Institutions; at the White House and at several Embassies. Current subscription concerts are performed in December, March and June each season at various venues in the Washington, DC metro area.
About the Position:
The Artistic Director will work with WMC's Board of Directors to further its commitment to individual and collective musical growth, fostering camaraderie among its members, and in pursuit of WMC's vision to become one of the most accomplished and sought-after men's choirs in the country. The successful candidate will:
Uphold highest standards of musical excellence while demonstrating positive energy, enthusiasm and a sense of fun
Articulate a clear artistic vision and create fresh and inspiring programs and projects
Strive to make WMC's programming welcoming and accessible to members, audiences, and communities of diverse backgrounds
Actively seek out creative collaborations with other Washington, DC area arts organizations
Inspire and forge relationships with audience members and donors
Work in close partnership with the Board of Directors and the Managing Director to maintain the fiscal health of the organization
Residency in the Washington, DC area is not mandatory but is highly desirable. The successful candidate will strive to familiarize themselves with the DC community; to forge strong relationships with singers, community stakeholders and other arts organizations; and to spend as much time as possible in DC. Although it is understood that the Artistic Director may hold other appointments simultaneously, they are expected to prioritize the Camerata and not engage in other artistic work in the community which could create conflicts of interest.
Detailed Responsibilities:
The Artistic Director is appointed by and reports to the WMC Board of Directors and works in partnership with the WMC Managing Director.
Artistic:
Provide artistic direction, vision and motivational leadership to the chorus
Maintain and advance WMC's standards of choral excellence, building vocal skills, musicianship and team spirit in a diverse group of volunteer singers
Recruit and audition new members for the chorus, striving to welcome musically qualified members of all adult ages and backgrounds
Work with the Board of Directors to establish and uphold attendance requirements and reaudition policies
Select repertoire that spans the traditional canon of men's choral literature as well as broadens WMC's programming through commissions and the performance of new works
Engage accompanists, professional core section leaders, assistant conductors and concert soloists as warranted, working proactively with the Managing Director to secure these services
Create opportunities for special performances, recordings and activities; cultivate collaborations and artistic partnerships with other community organizations
Lead rehearsals on Wednesday evenings 7:30-10:00 pm from September through June, and conduct concerts in December, March and June as part of the regular subscription season
Management:
Work closely with WMC's Board of Directors to develop and achieve organizational goals
Collaborate with the Managing Director to prepare timely season plans; propose concert dates and artistic budgets to be presented to the Board of Directors; and to provide artistic updates at all WMC Board meetings
Work proactively with the Managing Director on all rehearsal and performance logistical, artistic and operational needs
Advocacy and Audience Engagement:
Serve as an advocate for WMC in order to build its presence in arts communities locally, regionally and nationally
Play an active role in designing audience development and engagement activities
Assist WMC's Board in the long-term cultivation of donors and, as appropriate, in the preparation and presentation of grant applications
Work with the Managing Director to promote Camerata activities in the media
Qualifications:
The successful candidate will be an exceptional musician with outstanding conducting, teaching, vocal pedagogy skills, a command of foreign languages, and a thorough working knowledge of men's choral literature. An advanced degree in choral conducting and/or experience conducting at the university or similar community-based level is highly desirable. The successful candidate will have strong public speaking/presenting skills. Experience in conducting instrumental ensembles, and/or experience in arranging choral music is a bonus.
Compensation and Benefits:
The position is salaried and includes participation in employee health benefit plans. Salary is highly competitive and negotiable based on education and experience.
The Washington Men's Camerata is an equal-opportunity employer, committed to diversity, equity and inclusion. Underrepresented candidates are encouraged to apply. WMC does not discriminate on the basis of race, ethnicity, national origin, gender, gender identity, sexual orientation, disability or age.
Application Procedure:
Please submit the following materials to search@camerata.com no later than Monday, October 16, 2023 for full consideration. Please be sure to include your full name in the subject line of the email.
Your résumé (with most current contact information)
A cover letter describing your qualifications for the position as well as a brief statement of your programming philosophy
Names and contact info for three references, and 2-3 sample concert programs (either completed or proposed)
One video of a working choral rehearsal filmed with a frontal view of the conductor, demonstrating your vocal pedagogy and rehearsal technique. You may also submit a second video with performance footage
Attach URL links (YouTube/Vimeo/Vevo/shareable mp4) with a duration of 10-15 minutes per video. If the video is longer than 15 minutes, please indicate the start and stop timing window designated for review
Selected candidates will be scheduled to have a first-round virtual interview with the Search Committee in November 2023. Finalists will be invited to Washington, D.C. for an in-person audition with the chorus in February 2024. Finalists will be reimbursed up to one thousand dollars ($1,000) for their documented travel and hotel expenses.
The Search Committee hopes to have the process completed by April 2024.
MORE