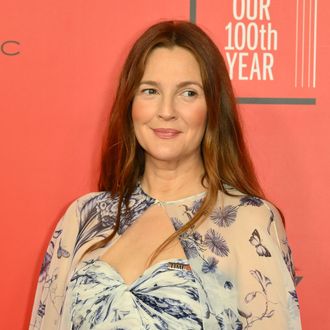 Photo: ANGELA WEISS/AFP via Getty Images
Update, Sunday, September 10 at 5:20 p.m.: After news broke that the WGA plans to picket The Drew Barrymore Show this week for returning without its striking writers, Drew Barrymore has shared her reasoning in a lengthy Instagram statement. "I own this choice," she wrote. "We are in compliance with not discussing or promoting film and television that is struck of any kind." Still, The Drew Barrymore Show itself is considered a struck show by the WGA. A spokesperson for the WGA confirmed to Vulture that anyone providing writing services for The Drew Barrymore Show is in violation of strike rules. According to the spokesperson, the WGA will be monitoring the show, which is due to start airing its fourth season on CBS on September 18.
Barrymore said in her statement that her show, which launched during the COVID-19 pandemic, was built for "sensitive times." "I want to be there to provide what writers do so well, which is a way to bring us together or help us make sense of the human experience," she said. "I hope for a resolve for everyone as soon as possible. We have navigated difficult times since we first came on air. And so I take a step forward to start season 4 once again with an astute humility." Barrymore also explained that she stepped back from the MTV Movie & TV Awards in May because she was the host and the ceremony "had a direct conflict with what the strike was dealing with which was studios, streamers, film, and television." It was also the first week of the strike, she noted. Find her full statement below.
Original post published Sunday, September 10 follows.
Et tu, Drew? The Drew Barrymore Show is reportedly returning without its WGA staffers amid the ongoing writers' strike. Cracked was the first to report that the WGA plans to begin picketing at the CBS Broadcast Center this Monday, a week before Drew Barrymore's talk show is scheduled to start airing its fourth season on CBS on September 18. This news comes a few months after Barrymore decided to back out of the MTV Movie & TV Awards in May, explaining at the time, "I have listened to the writers, and in order to truly respect them, I will pivot from hosting the MTV Movie & TV Awards live in solidarity with the strike." Barrymore's reps did not immediately respond to Vulture's request for comment, but a CBS spokesperson suggested to Vanity Fair that the upcoming new episodes don't make Barrymore a hypocrite. According to the spokesperson, the show "will not be performing any writing work covered by the WGA strike." The WGA, however, does not agree. WGA spokesperson Jason Gordon told Vanity Fair that the production is a "WGA-covered struck television show. It has stayed off the air since the strike began on May 2nd, but has now (unfortunately) decided to return without its writers." As a result, there will be picketing. We wonder if this'll make any headlines over at "Drew's News."