One day in the autumn of 2020, a brown envelope dropped on to George Benjamin's doormat in north-west London. "I thought, 'Oh boy, it's got his writing on it. And it's in there,'" the composer tells me across his kitchen table.
"It" was Martin Crimp's text for their fourth opera together, Picture a day like yhis. In other words, a fresh chapter in the story of a remarkable composer-writer partnership. Before Crimp came into his life, Benjamin was known almost as much for his painstaking rate of production as for the shimmering brilliance of his works. Post-Crimp, he's a composer from whom stage works seem almost to pour. His language "is like an electric current to me", Benjamin says. "It just gets me writing."
These texts – the playwright does not call them "libretti" – always arrive through the post, with a certain theatricality and formality. (The Royal Mail lost an envelope once, with agonising consequences.) The first to hit the doormat was Into the Little Hill (2006), a version of the pied piper of Hamelin story. Then, their first full scale opera, Written on Skin (2012), a medieval tale of love and revenge. That was followed by Lessons in Love and Violence (2018), about Edward II and his lover Piers Gaveston. And now comes Picture a day like this, which premiered at Aix-en-Provence in the summer and arrives at the Royal Opera next week. A spare, pared-down work for five singers and an orchestra of 22, it tells of a woman who embarks on a fairytale-like quest after the death of her child.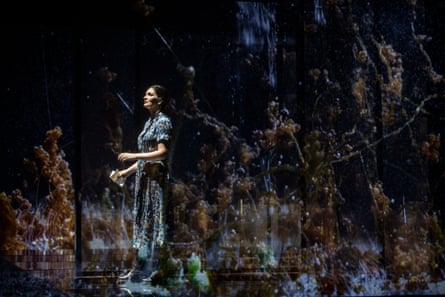 Crimp's words – crisp and clean but with a poetic resonance – have the effect, Benjamin says, of helping him steer a path through his internal musical universe. "I treat his text almost like a holy object: it's really useful for me to have something I don't muck around with. My imagination would otherwise come off the rails: too much choice, too much freedom."
Which makes it sound easy. Of course, it is not. Benjamin, when in composing mode, retreats to his attic. He sees almost no one aside from his partner, TV director Michael Waldman. He does not go out, except to walk round his local park, or perhaps to conduct a couple of concerts, Benjamin being a regular conductor of others' music as well as his own. It can be taxing for those around him. "Michael is wonderful at ignoring and tolerating me," he says.
Picture a day like this makes new demands on him, structurally. It is set over seven highly differentiated scenes, their only obvious common factor being the Woman (as the main character is simply known), who passes through the worlds of a pair of lovers, an artisan, a composer and an art collector in an attempt to fulfil her quest to find a person who is truly happy, and to take a button from their sleeve. There's no real sense of time or place, the piece unfurls with a dreamlike logic.
"The challenge for me," Benjamin explains, "was to write these scenes with absolutely and unmistakably contrasted personalities, characters, timing, mood, feeling, sound quality, pacing, everything – and yet, at the same time, to have this one trajectory moving forward." For Picture a day like this he was in composing mode for 18 months – after which being in the rehearsal room working with singers, directors, designers and musicians is a complete joy, he says.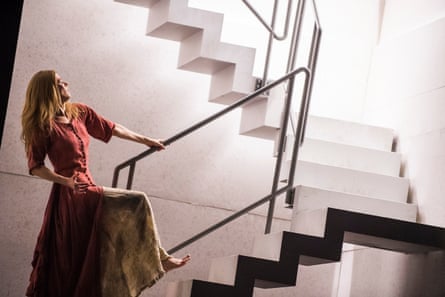 Benjamin was 46 when Into the Little Hill was premiered. He speaks about opera – and Crimp – as if relishing the beginnings of a late-blooming romance. He had fruitlessly met "about 80 [writers] over about 25 years with a view to maybe collaborating", but eventually resigned himself to the fact that he'd never find the right person. But then, thanks to mutual friends, he met Crimp in the foyer of the Royal Festival Hall in London. He regards it as among the most transformative encounters of his life – to be set alongside meeting the great French composer Olivier Messiaen, whom he was taken to see at 16 and who became his teacher. Visiting Messiaen at home in Paris, he tells me, was so remarkable it seemed to take place "in a different dimension of existence".
The story of how a 16-year-old London schoolboy met and became a pupil of one of France's greatest composers, studying with him for five hours, three times a week for a year after he left Westminster School, is remarkable in itself. Benjamin's parents – a publisher and an antiques dealer – enjoyed music without being musicians themselves. As a young boy, sharing a room with his elder sister, he loved listening to her records: Petula Clark, Sandie Shaw, the Beatles – the stuff of the 1960s (Benjamin is 63). Aged seven he was taken to the cinema – under protest and post-tantrum, he tells me through one of his surprising, endearing bursts of high-pitched laughter – to see Disney's Fantasia, with its score woven from Dukas, Beethoven, Stravinsky and Gershwin. And that was it. A coup de foudre. He fell in love with classical music. "When I got home I took my little collection of 45rpm pop records and put them in the dustbin."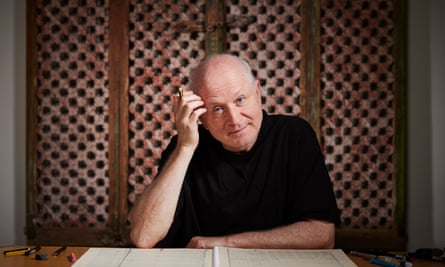 He loved composing tunes in his head, and played the recorder in school, but it was only after another tantrum that he was persuaded to try piano lessons. Naturally he loved the instrument. One day in April 1976, his teacher, Peter Gellhorn, took him to see Messiaen. He recalls how they arrived early and were let into the flat by Yvonne Loriod, Messiaen's pianist wife. Eventually, "I hear a key in the door. I'd read books about him and heard his music – and I imagined someone very serious and intense, philosophical and distant and terrifying. I was probably shaking with fear. And he comes in with a sweet, lovely smile." Benjamin played a piece he'd written, far too fast, and Messiaen gently told him to try it again, slower. And that was that: Messiaen agreed to teach him. "One of those moments of transfiguration for me."
Benjamin's story is rarefied – public school and Cambridge punctuated by private study with one of the 20th century's singular creative voices. But that doesn't dampen his political fury at the government's assault on so-called "low-value degrees", music education, and funding for opera and classical music. Take the London Sinfonietta, he says – "the first of the great contemporary music groups in Europe in the 1960s" – which, after nearly 15 years of standstill funding, has now lost 41% of its Arts Council grant. In France and Germany, its equivalents receive five or 10 times as much. "I know that we don't have the same attitude as in France and in Germany. I'm not asking for that," he says. "But there comes a point when you demoralise an organisation so much that it's very hard for them to continue."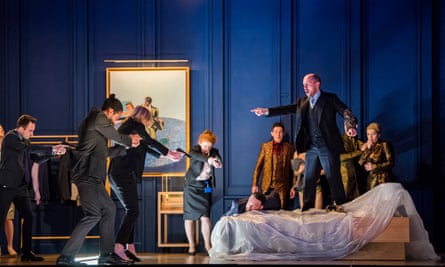 For the past century, Britain has produced generations of remarkable composers, but Benjamin takes the long view. Cut off talent at the root, stifle musical culture, and you could end up with a Britain that – like after the death of Henry Purcell in 1695 – produces no really great classical music for a couple of hundred years. "You cannot take the condition of classical music in this country for granted," he says.
When I ask what he learned from his time with Messiaen, Benjamin tells me that he gleaned a lot that first day about simplicity and gentleness. For the rest, it was "that you need technique, laws, rules, materials – you have to have craft at the highest level. Plus there was his permanent, obsessive concentration on the fact that you must absolutely hear whatever you write. Every note, every rhythm, every dynamic, every timbre, every expression, every slur: you must imagine it all to perfection in your inner ear. That is the job of a composer."
Picture a day like this is at the Linbury theatre, Royal Opera House, London, from 22 September to 10 October