Stock investors are showing some hesitancy for Tuesday, with big signals on the economy coming this week via consumer prices and retail sales. Ahead of that, Apple is expected to tempt consumers with yet another new iPhone on Tuesday.
How much should investors be worrying right now? Our call of the day from Pershing Square Capital Management manager Bill Ackman says that in the near term, we can relax a little, but it isn't all roses.
He told the Julia La Roche Show in an interview where he felt like he had a "crystal ball of what was going to happen," starting in January 2020 with the COVID-19 outbreak, and that carried on through interest rates and the economy. Indeed, the manager reportedly made nearly $4 billion on a couple of pandemic-related bets.
"I would say the crystal ball has clouded a bit in the last period. I think these are unusual economic times and perhaps we always say that, but I don't think this is a pattern that has been repeated…or it hasn't been for more than 100 years," he said.
But he remains near-term upbeat. "For two years, people have been saying that recession's around the corner and you know we've had a very different view, and continue to have this view that I think people are coming around to, that the economy is actually still quite strong," he said.
And while those on lower-income rungs have burned through a lot of COVID savings, he thinks the economy has yet to really see impact from the big fiscal stimulus seen in recent years.
Looking down the road though, Ackman has got a stack of concerns over the economy. He sees about a third of federal debt due to get repriced meaning that over a relatively short period of time, "interest expense will become a much bigger part of the deficit that is not going to be a contributor to the economy."
And while higher interest rates do help savers, ultimately that will be a big drag on the economy, he said, adding that rising inflation, mortgage rates, car payments and credit card rates, are all set to slow the economy.
"We're still in the midst of a war and there's political uncertainty you know with an upcoming election," he said. That partly explains Pershing Square's hedge via a short position on the 30-year Treasury bond
BX:TMUBMUSD30Y
that he laid out in a tweet in early August.
For roughly a year, long-term Treasury yields have been trading below short-dated ones, which is known as an inverted yield curve, a phenomenon that's often seen as a precursor to recession.
"I don't see inflation getting back to 2% so quickly, if at all, and if in fact we're in a world of persistent 3% inflation, you know it doesn't make sense to have a 4.3%, 4.25% Treasury yield," he said.
Other risks? Ackman remains worried about regional banks following the spring crisis, as many have big fixed-rate portfolios of assets that have gotten less and less valuable as rates rise. "I would say the commercial real estate picture has not gotten better, if anything, you know, you're going to start seeing real defaults, particularly with office assets," he said.
"Regional banks have the most exposure to construction loans so they are going to be a lot of construction loans that won't be able to repaid. There will be a lot of restructurings, so either the investors groups are gonna have to put in a lot more equity or the banks are going to start taking some losses," he said.
Ackman says investors also face a presidential campaign that could add some stress. The hedge-fund manager said he's surprised there have not been "more and better alternative candidates" for the 2024 campaign over President Joe Biden and former President Donald Trump.
He'd like to see JPMorgan Chase & Co. CEO Jamie Dimon toss his hat in the ring and believes Biden is "beatable," by a strong candidate.
Ackman himself said it's "possible," he himself could run someday, but he's more focused on having a better investment track record over Berkshire Hathaway Chairman and CEO Warren Buffett — and needs some 30 years to match the Oracle of Omaha.
Read: Here's an easy way to make a more concentrated play on the 'Magnificent Seven' stocks
The markets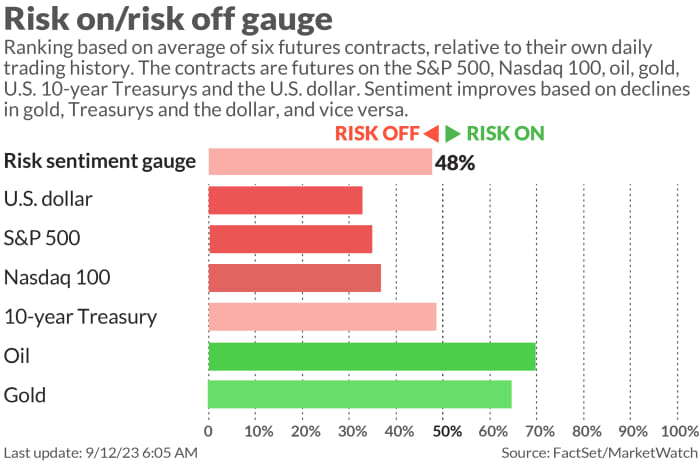 Stock futures
ES00,
-0.21%
NQ00,
-0.21%
are tilting south, led by tech, with Treasury yields
BX:TMUBMUSD02Y
BX:TMUBMUSD10Y
steady to a touch lower and the dollar
DXY
recovering some ground.
Read: Watch this 'canary in the coal mine' for signs of trouble in markets, Neuberger Berman CIO says
For more market updates plus actionable trade ideas for stocks, options and crypto, subscribe to MarketDiem by Investor's Business Daily.
The buzz
Oracle shares
ORCL,
+0.31%
are down 10% in premarket trading after disappointing guidance from the cloud database group.
Apple's
AAPL,
+0.66%
big event kicks off at 1 p.m. Eastern, with the launch of the pricier iPhone 15 expected to be on the agenda.
Hot ticket. Arm Holdings' IPO is already 10 times oversubscribed and bankers will stop taking orders by Tuesday afternoon, Bloomberg reports, citing sources.
Tech's wild week: How Apple, Google, AI, Arm's mega IPO could set the agenda for years
Upbeat results are boosting shares of convenience-store operator Casey's General Stores
CASY,
-1.02%.
Packaging giant WestRock
WRK,
-1.48%
and rival Smurfit Kappa
SK3,
-8.98%
have announced a stock and cash tie up. WestRock shares are up 8% in premarket.
Read: U.S. budget deficit will double this year to $2 trillion, excluding student loans
Best of the web
No better than gambling? Amateur investors are piling into 24-options.
China may ban clothes that hurt people's feelings.
U.S. takes on tech giant Google in landmark case.
The chart
Bank of America's global fund manager survey for September sees investors still bearish, but no longer on the extreme side. Here's the chart: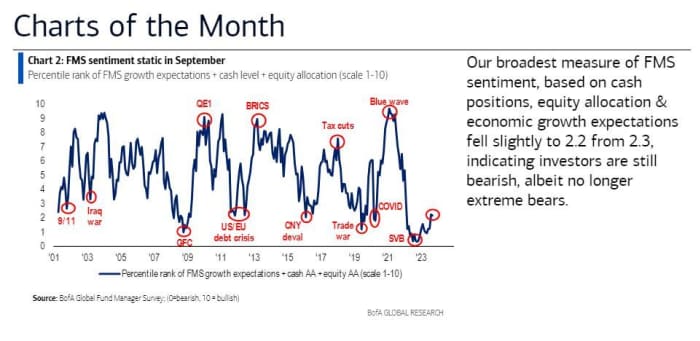 The tickers
These were the most active stock-market tickers on MarketWatch as of 6 a.m. Eastern:
Ticker
Security name
TSLA,
+10.09%
Tesla
AMC,
+2.23%
AMC Entertainment
CGC,
+81.37%
Canopy Growth
NVDA,
-0.86%
Nvidia
GME,
-3.90%
GameStop
AAPL,
+0.66%
Apple
ACB,
+72.17%
Aurora Cannabis
NIO,
+2.89%
Nio
MULN,
+5.77%
Mullen Automotive
AMZN,
+3.52%
Amazon
Random reads
"Worst investment ever." Brady Bunch fan buys original house for cut-price $3.2 million.
Millions of people "visit" this museum of 300 tanks every year
Need to Know starts early and is updated until the opening bell, but sign up here to get it delivered once to your email box. The emailed version will be sent out at about 7:30 a.m. Eastern.
Listen to the Best New Ideas in Money podcast with MarketWatch financial columnist James Rogers and economist Stephanie Kelton.