Elsa Ortega and her husband, David, are expecting a child at the end of October, and the couple closed on a home in El Paso, Texas, this summer. But when they thought about selling their three-bedroom single-family home for a larger three-bedroom house, they initially were hesitant. 
The listing went up on a Thursday. "I thought, we're going to have a hard time selling the home," said Elsa Ortega, a 36-year-old medical assistant, but they had multiple offers by the weekend.
The Ortegas purchased their new home for $321,000. They used a Veterans Affairs loan and put 10% down, even though it was not required. David Ortega is a former member of the armed forces and works for the federal government.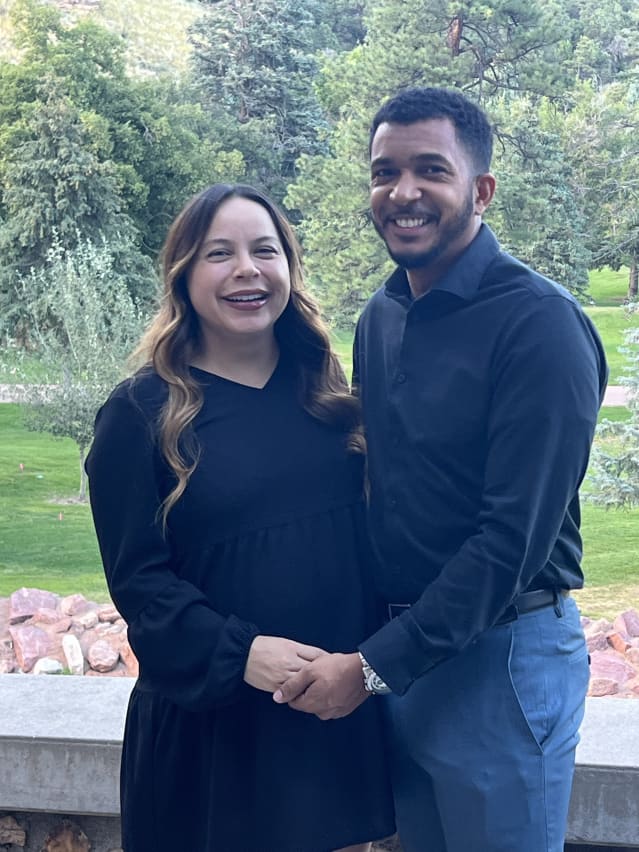 They bought down their mortgage to a rate of 5.5% — a process where buyers pay a lump sum to reduce their rate. That was still considerably higher than the 3.9% rate they got when they bought their previous home in 2019.
But they ultimately decided it was worth it: They wanted a larger back yard for their expanding family, as well as a bigger kitchen and living area. So when they found something that checked all of those boxes, despite the higher interest rate, they moved fast. 
"We went to an open house on a Thursday evening, and I fell in love with it," Elsa Ortega said. Although the three-bedroom single-family home received multiple offers, the couple won, and purchased the home in early July.
But the deal wasn't quite done yet: They listed their previous home for $225,000 and found an all-cash buyer for $220,000. 
People who are expecting a child or have young children are just one group that is more likely to sell their home in this challenging market, Jeff Tucker, senior economist at Zillow, told MarketWatch. 
"We know from our data that almost half of home sellers are influenced by a growing family and the need for more space," he said. "Those sellers are likely to be less deterred by financial factors like higher mortgage rates, which are holding many back."
Postpandemic housing market
Of course, a child on the way is just one of many reasons why some people are prepared to sell in this market — and potentially swap a low-interest mortgage rate for a higher one. Empty nesters, for instance, are likely to have substantial equity in their home or even own it outright, so they can often move without having to take on a higher interest rate.
The postpandemic housing market has been challenging for buyers who can't afford 7% mortgage rates, however. Rates have not been this high since 2000, and inventory remains tight, as many homeowners hold off on selling. Home sales fell to an annual rate of just over 4 million in July 2023, down from a 15-year high of approximately 6 million in 2021.
So who is not selling — at least not yet? "About two-thirds of those considering selling in the next few years are looking for an upgrade. I'd imagine these discretionary sellers are the ones who have most often taken a step back in the face of higher interest rates," Tucker said.
"New listings unexpectedly rose 4% in August over the previous month, which translates to 350,000 more homes."

— Zillow

As Redfin
RDFN,
-3.25%
CEO Glenn Kelman told MarketWatch last month: "There are people moving because they have to." After all, only a tenth of mortgages have a mortgage rate over 6%, according to recent research.
It's not all doom and gloom, though. New listings unexpectedly rose 4% in August over the previous month, which translates to 350,000 more homes, according to Zillow
Z,
-2.83%.
But new listings are still approximately 20% below prepandemic norms, the company added. 
So what are the most common reasons for moving? The desire for more space is the No. 1 reason, at 33.8%, homeowners told Redfin in a survey of 5,079 U.S. residents in May and June, which was released this week. This was followed by the desire to be closer to family, at 22.6%, and for a lower cost of living, at 21.6%.
In addition to new parents, here are three other selling "types" you may come across in 2023.
The job relocator
During the pandemic, many homeowners who were allowed to work remotely sold their homes, but New York-based mortgage broker Melissa Cohn said that she has had several clients who are selling homes they bought during the pandemic, as companies begin to require in-person attendance in big hubs like New York City.
Indeed, one in 10 homeowners told Redfin they were selling because they were being called back into the office. Redfin Premier real-estate agent Shauna Pendleton told Redfin researchers that she has two clients who are selling a home in Idaho they bought a year ago because their Seattle-based employer wants them to return to the office. 
"My sellers both work at the same company, which told them they have to be in the office three days a week or they'll lose their jobs. They have six months to make the move," Pendleton told Redfin. "They'll probably have to take a $100,000 loss on their home. Their new house in Seattle won't be anything close to the size of their property in Boise, and their mortgage rate will be much higher."
"One in 10 homeowners told Redfin they were selling because they were being called back into the office."
Some cities have experienced the "doughnut effect" as hybrid workers move to the suburbs surrounding city centers, so they can still commute a few times a week, according to data released by the U.S. Census Bureau earlier this year. What's more, cities with large colleges and universities are also seeing population growth again as more students return to campuses.
"With many employers bringing their employees back to the office part or full time, living more than about 50 miles from work is no longer a viable option," said Cohn, who is regional vice president at William Raveis Mortgage.
"Many of these people cannot afford to have two residences, so they are being forced to give up their low-rate mortgages and sell their homes to move back to a home that is within commuting distance," she added.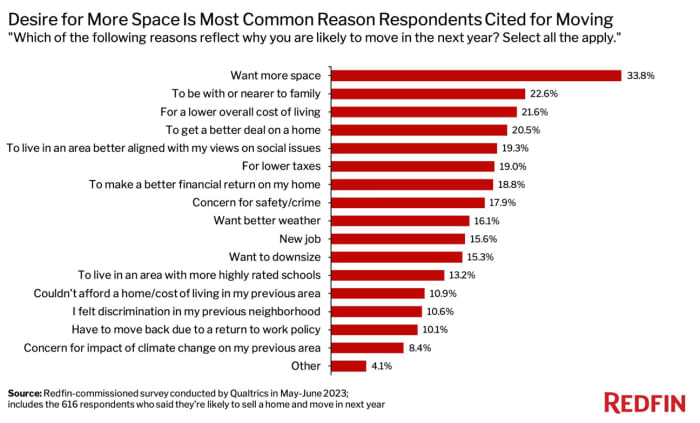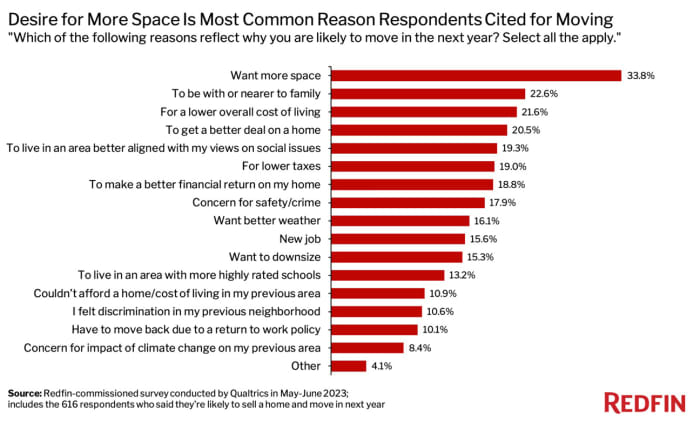 The fundraiser
Other homeowners are selling rental properties to pay the bills, such as medical bills or the mortgage on their primary home, experts say. It could be a home they inherited from a parent, or one that has appreciated considerably over the years. 
Rather than refinancing their primary home, some homeowners are selling their rentals, per this letter to MarketWatch's "Big Move" advice column. For instance, in the second quarter of 2023, mortgage holders withdrew about $39 billion in equity from their homes, down from $79 billion the year before, according to data from Black Knight, 
Selling a home on the current market, given the inventory issue, may be more profitable for some. A recent Redfin report noted that nearly 20% of people who were selling did so to "make a better financial return" on their home.
Older Americans may also have the financial freedom to downsize and thereby raise money for their retirement. For some, even if they love their home, selling could be a necessary evil. "If you can't handle the stairs anymore, or if there are more repairs than you can manage, it may be a good time to sell," Rick Albert, a broker with Lamerica Real Estate in Los Angeles, recently told a Bankrate.com report.
Divorced or widowed people
Spouses who divorce or who are widowed are also more likely to sell their homes, experts say. 
"In divorces, if the parties cannot agree as who will buy out the other party's interest or cannot agree upon the fair market value of a home, then they will end up either agreeing to sell, or a court will direct that the residence be sold," Lois Liberman, a New York-based partner at law firm Blank Rome, told MarketWatch. 
Case in point: American singer Joe Jonas and English actress Sophie Turner sold their $15 million Miami mansion before they divorced after four years of marriage. 
"Much of the time, the equity in the marital residence represents one of the largest assets of the marital estate," she added. One party may not have enough money to buy their estranged or former partner out, so they need to sell, or they may just decide to both sell and each buy a new property where they can start fresh, she added.
It may also be a revenge sale. In some cases, Liberman said, the divorcing parties "cannot stomach seeing the other retaining the residence and, thus, would rather rely upon the vagaries of the market and see a third party live there," she said. "That sentiment of, 'If I can't have it, you can't either' is real."
Nicole Pesce contributed.