Angie Winkler, who is a full-time caregiver for her husband, retired from her financial-services job in December and was looking for something to do in her limited extra time. She found the answer in knitting for others.
Winkler, who started knitting when she was 8 years old, read an article online about a project called Loose Ends that pairs volunteer crafters with people who have unfinished projects that were left by loved ones who died. She knew she had found a perfect match for her skills and interests.
Winkler, 63, had already done a similar project, finishing a blanket for a friend whose mother had died.
"When I saw what it meant to her, it made it so special. I've always liked to knit and it was simple for me, but it meant the world to her. It made it so worthwhile," Winkler says.
So far, Winkler has completed two Loose Ends projects. One was a sweater that was started by a woman's stepmother. 
"The sweater was almost finished. It didn't take a lot, but she sent me a picture [of herself] wrapped up in it when I was done, and it meant so much. I felt lucky to do it and be able to give that to her," Winkler says.
While many of the Loose Ends projects get handled through the mail, a second project was a blanket Winkler was able to finish knitting and deliver in person.
"The client choked up when she saw it. And it was nice to get to know her briefly and hear her story," Winkler says. "If knitting and a simple project can help someone get through a difficult time or have something from their loved one to hold onto, then I'm the lucky one to be able to help. The rewards go both ways."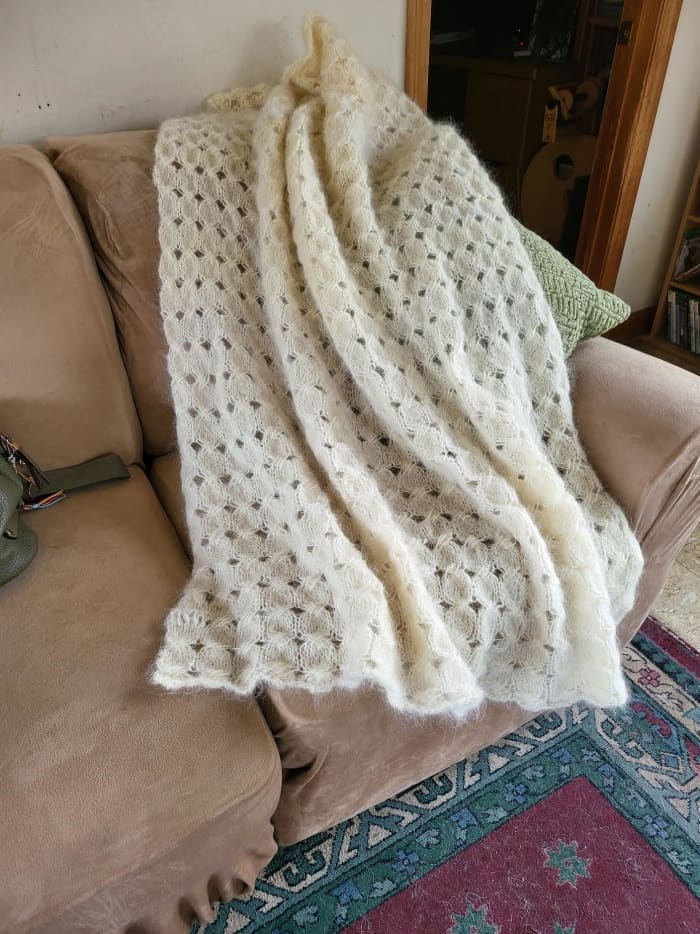 Loose Ends was founded in August 2022 by Jennifer Simonic and Masey Kaplan, a pair of 53-year-old knitters. The idea quickly grew to involve more than 15,000 crafters in 56 countries who volunteer to finish projects that were started by people before they died. About 20% of the finishers are retired, and there are currently about 1,200 active projects .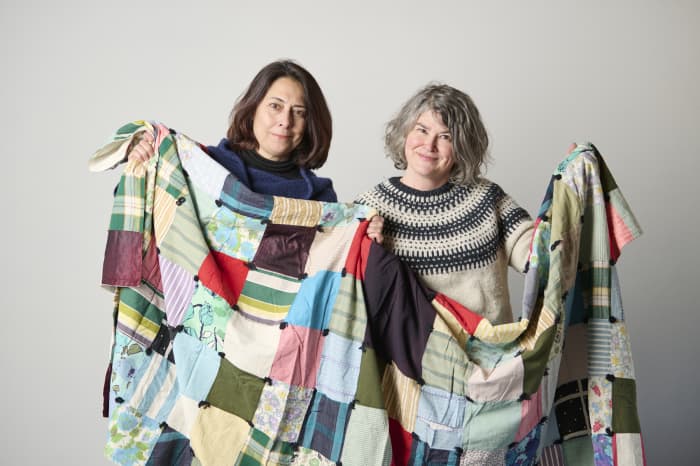 "We both knit in public and frequently get asked if we could help finish a project. The act of asking is a grief response. The request is always made with a heart that's full of all these feelings," Simonic says. 
Loose Ends craft projects range from knitting and crocheting to quilting, embroidery, needlepoint and other fiber arts.
"We would like to see it grow to non-English-speaking countries and grow worldwide and include more skills. We could have so many skills represented and fulfill so many requests," Kaplan says.
"People speak to a need of wanting to do something meaningful. We've been alone for three years in the pandemic without communities and circles of friends. People are looking for a way to do something meaningful," Simonic says. "Many of our projects were started by people who passed away during COVID, and this was the last thing they were working on."
Other projects were left undone by people who died by suicide, in car accidents or after sudden, unexpected illnesses.
"The extra gift was that we didn't know how valuable emotionally this project would be. There's a lot of generosity and care to it," Simonic says.
Read more about volunteering in retirement:
Where are the retirees? The retiree volunteer rate is depressingly low. Here's how to change it.
Volunteers cuddle babies in intensive care: 'To feel their finger curl around yours is an amazing connection.'
Teaching kids to read: this 90-year-old hopes to make 'an impression that could last forever'
This retiree travels the world as a clown and loves it when 'children's faces light up'