When Alvin Owusu-Fordwuo was growing up in central Hackney in east London, the small businesses that operated under the arches on Morning Lane blended into the background. As a kid he had little need for discount office furniture or the free "crypton tune" that came with a service at one of the car garages tucked under the railway line.
"I knew those businesses had a function," says Owusu-Fordwuo, 26. Rain begins to fleck his glasses as we stand on a wedge of land where the busy road bends close to the train tracks. "But it's like you didn't know they were there until they weren't."
Owusu-Fordwuo grew up round the corner and went to the Urswick school, one of the most disadvantaged secondaries in the country. It stands on the other side of a big housing estate, close to the border between the E8 and E9 postcodes; there is also a history of gang violence here. "This strip was … if you were younger and not from this area, well, it was complicated," he says.
Hackney, which shares borders with Islington and the City of London to the south and west, as well as Tower Hamlets and Newham to the east, has for the past two decades been a hotspot of gentrification, not least in areas such as Shoreditch and Dalston. Yet it also still contains some of London's most deprived wards, including parts of Hackney Central.
In 2011, the London riots started up the road in Tottenham after the killing by police of Mark Duggan, before sweeping through other boroughs and cities across England. Violence flared on streets not far from the arches. Owusu-Fordwuo, who is the son of a postman and a school worker, was still at school at the time, but he didn't need all the subsequent official and academic reports to tell him what had happened: he saw the unrest as a response to decades of social deprivation and growing inequality tied up with mistrust of the police.
Soon after the riots, the Greater London Authority, then led by mayor Boris Johnson, announced a £70m fund "to invest in the long-term regeneration of some of the worst affected boroughs". Money was put into various schemes, including an employment centre in Haringey and reductions in business rates in Croydon. In Hackney, the council would invest £1.5m in "a visitor attraction and an enhanced retail circuit" – part of an ambitious project that would soon raise eyebrows.
Hackney Walk was a luxury fashion hub that would occupy 12 of the old arches on Morning Lane after the existing businesses had been kicked out. The £100m scheme was conceived by a developer and funded largely by his backers. It also included £3.7m from Network Rail, which owned almost 4,500 arches across Britain, investing their rental income into the ailing railways. Architect David Adjaye was brought in to reimagine a slice of the capital's Victorian transport infrastructure – traditionally where small businesses could survive on affordable rents – as a monument to luxury retail with a striking new gold-and-glass facade.
The development also included several surrounding shopfronts and was to expand into a bigger neighbouring site, further along Morning Lane, occupied by a Tesco. The master plan was sold as east London's answer to Bicester Village, the Oxfordshire designer outlet that is one of the country's biggest tourist attractions. And it had the full support of the council. Jules Pipe, then mayor of Hackney, gave a speech at a launch party in March 2016, alongside the developer, a man called Jack Basrawy who has not commented for this article, as a street artist in a flat cap went to work behind them. Street-food vans doled out ramen and craft beer while a DJ played.
Pipe, who left Hackney later in 2016 to become one of London's deputy mayors, acknowledged some of the scepticism in a speech at the event. He was anxious to "celebrate the beginnings of Hackney Walk – a project which had its roots in the riots", insisting it was about regeneration rather than gentrification. As well as attracting big spenders to its luxury stores, he said it would create vital jobs and opportunities for locals, and ultimately "be judged by the people of Hackney".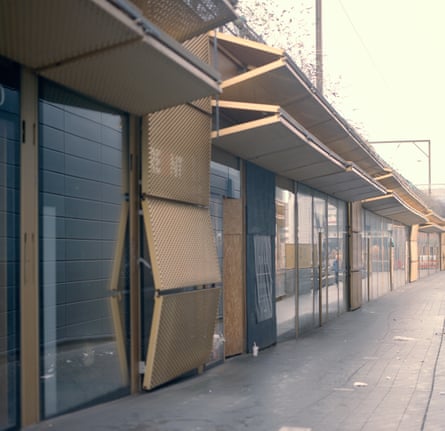 Owusu-Fordwuo, who studied for an economics degree, now co-runs Tag agency, which helps companies engage meaningfully with local youth projects, and works for community charity Hackney Quest. He says the idea that a luxury fashion hub could transform Hackney Central – or that the community needed it – is delusional. "After the riots, there was this opportunity to invest in our young people's futures," he says. "Almost half of Hackney's children grow up in poverty and instead of pushing money into that, they made this."
---
Google Street View offers a compelling picture of what happened next. The earliest imagery, in 2008, shows weeds tumbling from the railway down towards the arches. Behind a billboard advertising the iPhone 3G, there is a hand car wash, several garages, a carpet wholesaler and a furniture store called Steptoe & Son.
By April 2012, the arches have been shelled out and the weeds are gone. Two summers later, a steel framework has gone up in front of the arches. In October 2015 a wall of glass has been hung from it and shimmering security shutters are poised to protect it. Two large new buildings are rising at either end of the arches, in the triangles left by the road as it bends back away from the railway.
Soon, in 2016, shop names are appearing: Savile Row tailor Gieves & Hawkes, Joseph, designer label stockist Matches Fashion. One of the new buildings has become a large Nike store. The old arch forecourts have been landscaped in slate to create a new thoroughfare with plants and seating; across the road, several shops have been bought up and painted black. An Anya Hindmarch store occupies what used to be a florist and cafe. The Edwardian Duke of Wellington pub is now Pringle; a former dance shoe factory is an Aquascutum outlet.
The picture in 2023, as I meet Owusu-Fordwuo by the arches, is very different. Hackney Walk is a ghost town. Shutters are broken, the slate is crumbling and graffitied chipboard covers the smashed-in former entrance to Gieves & Hawkes. Brackets that until last December held up a giant Nike Swoosh still hang from one of the new buildings. Its sister store, at the eastern end of the development, has never been occupied. Only one shop remains open at the time of writing: Present, which sells Stone Island streetwear. One of its giant glass doors has also been smashed. "The shutters stopped working years ago, then we got ram-raided," an assistant says.
Owusu-Fordwuo often walks past the arches. "I ran some workshops recently on how young people would redesign their neighbourhoods for creativity and this place came up a lot," he says as another freight train rolls over the abandoned arches. "They talked about creative workspaces and studios. They walk past here now and they have visions of what it could have been. There is a collective anger and distrust, and people just want to know how something like this happens."
---
The rapid expansion of the railways through and above Victorian Britain's cities left thousands of brick arches that were noisy, damp and awkwardly shaped, so rents were low. "They were cheap, messy spaces that came right into the heart of the city," says Francesca Froy, a lecturer in sustainable urban development at the University of Oxford and co-author of a 2017 study of 165 London arches. "They preserved economic activities that couldn't otherwise afford to be there."
Arches also became sanctuaries for working-class and immigrant businesses. In 1988, Chuong Chu, who had arrived as a refugee from Vietnam in 1980, set up Chu's Garage in a vacant arch in nearby London Fields. "In those days Railtrack, which owned the arches, was begging people to look after them as opposed to making money from them," says Derec Hickman whose wife, Nhi Chu, is part of the family business.
These arches, Froy's report said, functioned as "a bulwark against gentrification", their imperfections acting as a kind of rent control. But their locations – close to urban centres and train stations – have latterly given many of these "messy" spaces a new aesthetic and cultural appeal. You could set up a craft brewery in an arch and people would happily stick around to drink there. "Arches became hip because they have that industrial atmosphere," says Hickman who, with Nhi, runs Guardians of the Arches, a collective and campaign group that supports immigrant-run businesses.
Network Rail, which took on the ownership of almost 4,500 arches across the country (more than 60% of them are in London) when it replaced Railtrack in 2002, began to realise the value sitting under its lines and the possibility of raising more money from rent to invest in the railways. As often neglected former industrial quarters in cities including Manchester and Glasgow became destinations, rents started to rise, doubling overnight at their garage, the Chu family say. Meanwhile some arches were targeted for redevelopment.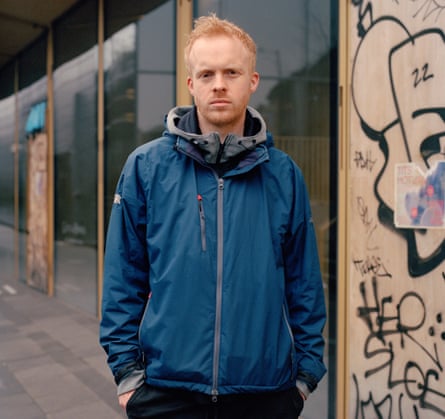 Planning notices first appeared on Morning Lane in 2009. Two years later, Mehmet Erkant remembers the pain his father felt when the family's MOT centre and secondhand car business were forced out, later to make way for Gieves & Hawkes. Emir Erkant, who died in 2021, had moved to London from Cyprus in the 70s and set up shop in the arches in the 80s. "It was more lively in the old days, even if it was a poor place," says Mehmet, 41. "We'd do a barbecue every Friday, invite people over and have fun … He put so much into that place."
The London riots coincided with the evictions, and the search by Jack Basrawy for a site on which to develop an urban fashion outlet. Basrawy, who is 60 and has had a string of tourism and retail businesses in London, heard that Hackney had riots funding to contribute to something new on Morning Lane. He saw great potential in Hackney Central where, he would later say, "People come because it's human, a little bit gritty and cool, and very much part of the London experience." (When I reach him by phone, he declines to talk to me about Hackney Walk or respond to any questions.)
If there was a kernel of logic in Basrawy's master plan, it was that Hackney Central's industrial history included textile factories, such as the one operated by Burberry on Chatham Place, which joins Morning Lane opposite the arches. The luxury brand has had a successful retail outlet there since the 90s, which now sits next to the site of the old factory. The glossy, cavernous store became a destination for tourists, who still swoop in by taxi or tour bus to peruse £230 pairs of trainers (down from £670) and similarly discounted coats for £800.
If people were prepared to travel from central London all the way out to Morning Lane for one brand, why not others? Yet Basrawy was determined not only to attract tourists but, as he put it in 2016, locals and Londoners who "want to be able to see and touch – and hopefully afford to buy" designer clothing.
---
Guy Nicholson, Hackney council's deputy mayor, with a brief for regeneration, was one of the most vocal cheerleaders for the project. The success of Burberry, the area's fashion heritage and Basrawy's promise of jobs and opportunity had convinced the council that his vision was worth investing in. As well as the £1.5m of riots funding from the London mayor's office, it added £135,000 from its own coffers to be used for community engagement and "public realm improvements".
I meet Nicholson, 62, in a drab meeting room in the handsome art deco Hackney town hall, a short walk from the Morning Lane arches. He worked in theatre design before a friend suggested his energy and problem-solving skills might make him suited to politics. He won election as a councillor in Hackney, where he lived, in 1998. "We all wanted to be the Tony Blairs of tomorrow," he says. But before long "that ambition had been washed away and we were confronted with a pretty grim reality".
Hackney had become bankrupt – and a national embarrassment for the new Labour government – after years of unchecked spending and political instability, and Nicholson was part of the team tasked with reversing the rot. "It was a time when burnt-out cars littered the place, street lights didn't work and people felt unsafe at night," he says. "If you could move out, you moved out."
Nicholson remembers lamenting not only the terrible state of schools and services, but the poor choice for consumers: "There were cafes where you could get a bacon sandwich, and the street markets were functioning, but it wasn't a place where commerce and enterprise really thrived."
Yet pockets of Hackney were rapidly gentrifying, thanks to the borough's proximity to the city centre, handsome housing stock and the creative energy of young artists who were finding cheap digs in areas such as Hoxton Square in the 90s. Nicholson had moved to Homerton, the ward in which the Morning Lane arches sit, in the late 80s. "We were probably yuppies, you know, in the day," he says.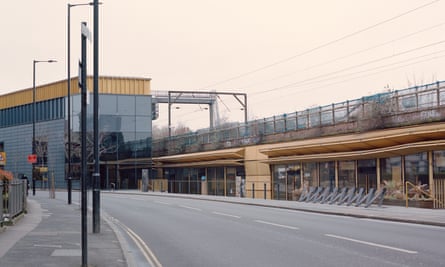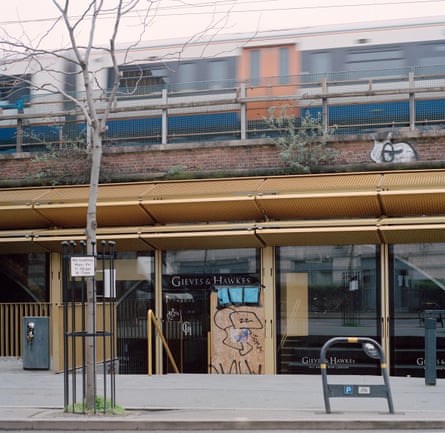 Private investment washed in as developers sought to capitalise on Hackney's growing cachet. Shoreditch House, an outpost for the Soho House private members' club, opened in 2007 in a 1930s building once occupied by the Lipton tea company. A year earlier, Hackney had taken Nike to court after it used the council's logo in a range of football clothing (Nike settled the case and gave Hackney £300,000). "Suddenly this Hackney brand started to gain strength," Nicholson says.
In 2010 the prime minister, David Cameron, came to Shoreditch to announce plans to turn part of Hackney into a tech hub for startups to rival Silicon Valley. "Placemaking" – creating destinations – had become a buzzword among local authorities and developers, and Nicholson was receptive to Basrawy's big idea. He remembers the arches on Morning Lane as "marginal businesses operating in a marginal economy" and saw potential in a largely privately funded bid to boost opportunities for young people in a neglected part of the borough. "If people are concerned about gentrification, rather than just complaining about it, use it," he says. The private sector "brings with it a deal of resource and investment, and that isn't necessarily about cash but investment into people's lives. That underpins our public sector principles." He hesitates before adding, "But it's difficult to translate that into the commercial sector."
---
In October 2013, Hackney council granted permission for the new development on Morning Lane. The application, which followed a separate bid to transform the arches, was more ambitious than what would be built. It included an eight-storey glass-walled building on the corner of Chatham Place and Morning Lane (which would have meant demolishing the Duke of Wellington pub) and a five-storey building opposite.
Basrawy headed up Chatham Works Limited, one of two companies initially behind the plans. The other was the Manhattan Loft Corporation, headed by Harry Handelsman, a pioneer of 90s London loft living and developer of the A-list favourite Chiltern Firehouse restaurant, the restored former Midland Grand hotel at St Pancras station and a £300m skyscraper in Stratford.
Jobs and opportunities would be central to their plans, they said, and to the council's support for them. As well as high-end outlets, there would be a "stitch academy" with apprenticeships and equipment for use, as well as support for local designers, including Hackney Shop, a rent-free sales space that had already opened in an old discounted bed store. The council said at least half of the planned 400 jobs would go to local residents.
There was a lot of scepticism. The Hackney Society, which campaigns to preserve the borough's heritage, doubted the scheme could attract enough people to a relatively isolated area cut through by a busy road. In 2013 it wrote: "The Fashion Hub is ultimately a grand, exciting and innovative idea, but rapidly implanted in the wrong place and without major infrastructure changes needed to support it."
There were problems with the development right up to the opening in 2016. Work had not started on the two larger buildings that were central to the project, making the gold-shuttered arches its focus. Handelsman says the buildings were jettisoned when the Manhattan Loft Corporation sold its stake after receiving "an acceptable offer". He declined to say why he had pulled out, and did not respond to other criticisms of the scheme.
Someone close to the project at its launch, who prefers not to be named, describes it as "just amateurish … The shutters never worked properly, the arches leaked, you couldn't tell where the shops were because there was no signage and the windows were so dark, you couldn't see the clothes." A marketing agency was due to plaster the nearby Hackney Central station with advertising. "They called it 'station domination'," the insider says, "but it turned out to be basically one of those signs you hang on railings when you're promoting a funfair." The finances didn't seem to add up – "They were giving a lot away to get people in there" – and opening day was chaotic. With hours to go, one retailer pointed out there was no wifi or phone lines to make it possible to operate the tills. "There were design issues, the leasing structure was a disaster – it was a case study for what not to do."
Owusu-Fordwuo saw a strange symbolism in the arches' design. Here was a £100m scheme, built and partly funded as a result of social unrest that involved smashing shops, imposed on a deprived community, with gilded shutters designed to protect windows and the luxury goods behind them. "It's like: 'You can't smash these windows!'" Owusu-Fordwuo says. "It feels like the design of it was always meant to be exclusive."
---
In early 2017, Hackney council put even more faith in Basrawy by agreeing to a deal by which it would buy the larger Tesco site for £55m and give Hackney Walk a five-year option to put in an application for its redevelopment. The alternative, the council tells me, would have been to leave the site, which Tesco intended to sell anyway, to the free market. The council included the five-year limit because it was aware of the situation next door at the fashion hub. But no planning application for the Tesco site would materialise. And in July 2017, Basrawy – the passionate founder and chairman of Hackney Walk – sold his stake in the arches to LabTech, a property company that owns Camden Market in north London and is owned by Israeli billionaire Teddy Sagi. (LabTech says it left the scheme in 2020.)
Basrawy, who still owned other properties that were part of the master plan, later insisted that almost all the arches had been occupied when he left them. "It was a success," he said, adding, "I believe Hackney Central has great potential and the scheme will evolve over time."
It did not evolve. By October 2019, all but four retailers had abandoned their arches as the promised footfall failed to materialise. Hackney Walk's official Instagram feed's last post, in March 2019, had been a promotion for the Matches Fashion store, with a photo of designer handbags and hashtags including #grittyprettylondon and #london4all. One by one, stores continued to leave until the pandemic prompted an exodus. When they were permitted to reopen after lockdown restrictions were lifted, only Present and Nike did so.
The empty arches and shops were left to decline. The weeds grew back. Since Basrawy's option to redevelop the Tesco supermarket expired in 2022, the store has remained well used and is the subject of a campaign to preserve a community function for the site. Nike abandoned its store in late 2022. Pelin Gok, who works opposite at Gabba, a furniture store that replaced Pringle in the old pub, says Nike's exit killed what little footfall remained. "Now it really is a ghost town," she says.
The Basrawy family's only visible presence appears to be The Box, a space down an alleyway off Chatham Place where luxury brands host sample sales. It is run by Basrawy's daughter, Natalie Yaffe, who also declined to talk to me. The dream of a fashion hub in Hackney is dead and the fate of Morning Lane and its abandoned arches is uncertain as a complex web of landlords and lenders to the scheme work out what to do.
Someone with knowledge of one of the financing deals behind the scheme tells me it failed because nobody could afford, or was willing to fund, the vast marketing and advertising budget that would have been required to draw sufficient crowds to a relatively isolated corner of London. As Francesca Froy, the urban development academic, says, the "build it and they will come" approach to 21st-century placemaking is flawed.
"People often think you can plan where economic activity is going to succeed, whereas actually it's businesses that find the places that are going to work for them. And those that had found the arches in the past were car-repair firms and other light industry. To think you could just repurpose the arches and it would all work was a misunderstanding of how cities operate."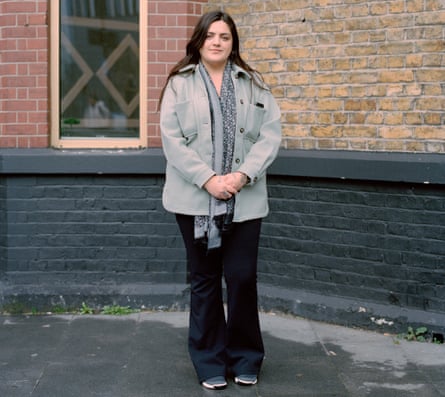 At Hackney town hall, Guy Nicholson says he genuinely believed Hackney Walk could work. He says he despairs at the council's powerlessness in the face of its failure. "It's very disappointing because nothing's happened – it's just empty. And the council has been frustrated in trying to change that. Civil servants can't talk to anybody or broker anything, and there's still no conversation about what is going to happen next."
These aren't the only arches facing challenges. In 2015, not long before the grand opening on Morning Lane, a Network Rail report included a proposal to sell off assets not essential for the running of the railways to help plug a huge funding gap. Many tenants accused Network Rail of increasing rents in this sale period to boost the valuation – something it has always denied. A spokesperson says Network Rail only charges market value rents for its commercial property and has always worked with tenants to negotiate stepped increases or find alternative space. "Any uplift in rent achieved was revenue directly reinvested back into the railway."
Either way, tenants reported rent hike demands in some arches by up to 500%. In London and other big former industrial cities such as Manchester, railway arches were becoming a gentrification battleground. Nhi Chu and Hickman launched Guardians of the Arches in 2017 to campaign against the sale and extreme rent hikes. In February 2019 Network Rail completed the sale of its arches as part of a £1.46bn deal with a joint venture made up of Telereal Trillium, part of the London-based William Pears property empire, and Blackstone, the largest commercial landlord in history.
These corporate giants created the Arch Company, known as ArchCo, to let and manage thousands of arches, including the dozen on Morning Lane, which were by then being vacated. Want an empty 327 sq metre arch under a railway line in Southwark in south London? That'll be £113,400 a year including VAT.
Whereas Network Rail, a public sector body without shareholders, had been motivated to maximise the value of its commercial properties to help keep the crumbling railways going, ArchCo was beholden to corporate interests. Guardians of the Arches has criticised the company for continuing to increase rents and for giving new businesses less secure tenancy agreements. "We've had so many people move out, they can't keep doubling the rents any more," Hickman says.
ArchCo tells me it only charges market rents and offers support to tenants dealing with rent inflation, including discounts and help with relocation. According to its tenants' charter, it was a condition of its purchase of the arches that new leases exclude "security of tenancy" to ensure Network Rail retains access to the railways for major works. ArchCo advises any tenant changing to a new lease to seek professional advice.
The challenge on Morning Lane will be encouraging people to move in. ArchCo has now submitted an application to Hackney council to bin the broken gold shutters and remove restrictions that required stores to be in the fashion trade. The company tells me it is planning to invest £1.2m in the arches to return them to use, but won't predict what rents are likely to be.
---
On another visit to Morning Lane, I meet Luke Billingham, who grew up in Hackney and is now an academic researcher specialising in youth violence while also working at Hackney Quest alongside Owusu-Fordwuo. He looks back on the rise and fall of Hackney Walk with despair. In its early stages, he was struck by some of the language used by the developers. As well as describing Hackney as "gritty and cool", Basrawy also later said his strategy was "based on our belief that the changing demographics of east London mean there is a big market for luxury in this part of the city". "Presumably he felt Hackney had just enough social problems to make it seem thrillingly risky, but enough social cleansing to make it ready for some luxury shops," Billingham wrote in 2021. He compares Hackney Walk with the 2012 Olympics site just a mile to the east, where, after the games, the promised level of affordable housing failed to materialise.
"There are people who've made their life here, experienced all the wonderful things in Hackney, but a lot of difficulties, too," he says. "And then developers basically look down on it as their little plaything."
One of Owusu-Fordwuo's gripes has been the lack of meaningful engagement with locals, including groups as central to the community as Hackney Quest. "I don't know anyone who has been consulted," he says. "I've spent my whole life in this part of Hackney and I feel like this was built in opposition to me." Experience would make him hesitate even if an email were to land in his inbox, he adds. "It's dangerous territory. People like me get used as pawns. 'Community consultation' and 'co-create' are becoming increasingly popular, but they're just buzzwords. They just stick some poor people in a room, get someone to facilitate it, then forget about them later. It's extractive and paternalistic."
No one I speak to believes this section of Morning Lane, as it was in 2009, could not have benefited from investment. Even Mehmet Erkant, whose family garage got kicked out, recognises that many of the other arches were in poor condition. But he wasn't alone in thinking a luxury fashion hub might not be the answer.
As Owusu-Fordwuo surveys what remains of that grand vision – the broken shutters and empty stores – he tells me these spaces have been abandoned but not forgotten. "In this cost of living crisis, when space is at a premium, people are still angry," he says as a train rolls past. "They're not going to let this happen again."